Green lasagna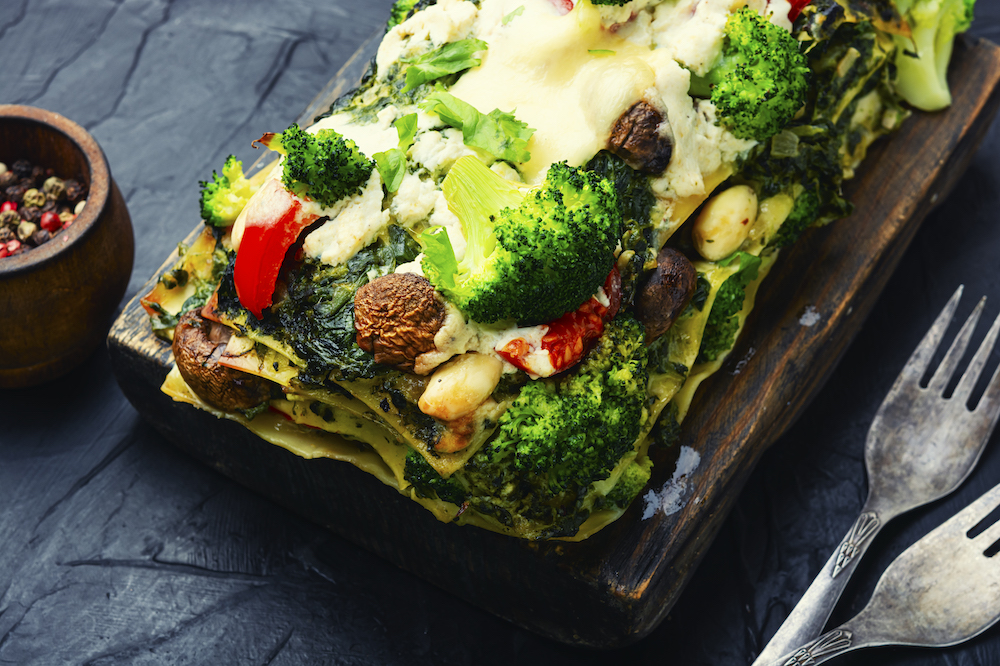 Ingredients
2 leeks
2 cloves of garlic
1.75oz butter
2oz whole wheat flour
20floz semi-skimmed milk
1 bunch of basil
2 tbsp dried Italian herbs
2.5 tbsp olive oil
14oz spinach
Broccoli stalk
9 lasagna sheets (whole wheat)
1 ball of mozzarella
Handful of cherry tomatoes
Salt
Pepper
Preparation
Preheat the oven to 350F and finely chop 1 leek. Finely chop the garlic as well, while melting the butter in a saucepan. Add the leek to the pan and sauté for 4 minutes. Then add the garlic and cook for an additional minute.
After that minute, add the flour and cook for 3 minutes. Gradually pour in the milk, stirring constantly. It's important to keep stirring until a béchamel sauce forms. Finely chop the basil and add it to the sauce. Season the sauce with Italian herbs, salt, and pepper to taste.
Now, chop the other leek into small pieces and sauté it in a separate pan. Then add the spinach and chopped broccoli. Cook for 10 minutes until the broccoli becomes slightly tender and the spinach has wilted.
Take an oven dish and grease it well. Start by spreading a thin layer of sauce on the bottom, then place 3 lasagna sheets on top. Add a layer of the vegetable mixture. Repeat this process 2 more times. Finish by topping it with mozzarella and cherry tomatoes.
Bake the lasagna in the oven for 45 minutes. Once the lasagna is done, remove it from the oven and serve.