Coconut oil in the bathroom?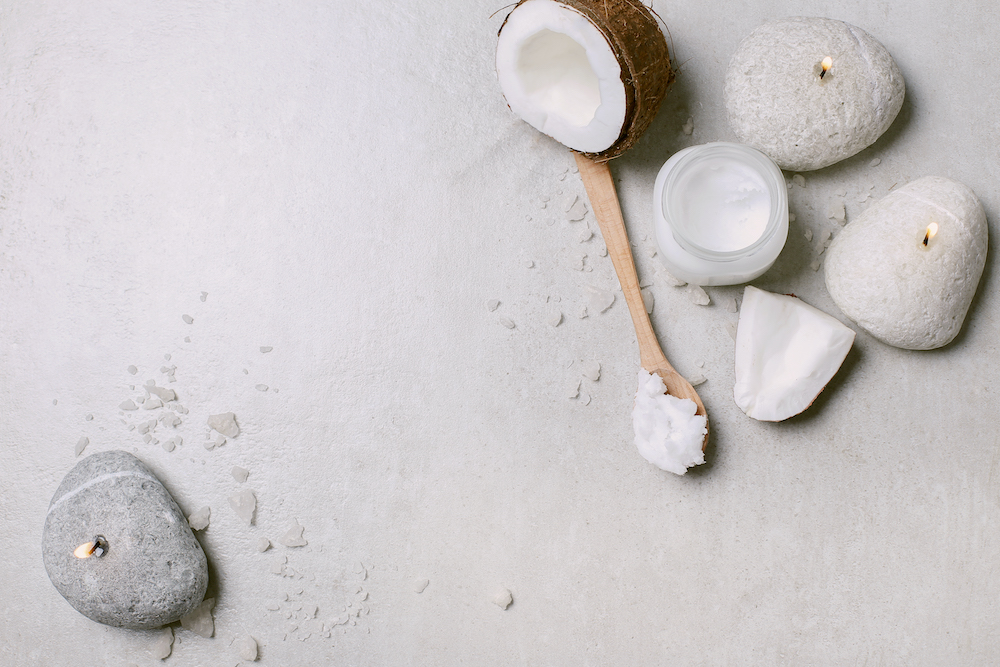 Many people use coconut oil for cooking, but it serves other purposes. We also highly recommend keeping a jar of coconut oil in your bathroom; yep, you heard that right. It's an excellent oil for your skin and hair and has many other uses. Our editorial team has done the research for you, so pick up that extra jar the next time you go shopping.
Hair masks:
Coconut oil is a solid, creamy substance that becomes liquid when heated. Bringing a jar of coconut oil into the shower will help it melt, making it the perfect consistency to use on your hair. Apply a generous amount of oil to your wet hair and tie it up in a bun. After 5 minutes, rinse it out for beautifully shiny locks.
Body oil:
The creamy texture of coconut oil makes it perfect as a lightweight body lotion. Apply it directly to your warm skin right after showering, allowing it to absorb. The subtle tropical scent will linger.
Tip: Add a few drops of peppermint or lavender oil for a massage blend.
Lip balm:
Coconut oil is a great remedy for chapped lips. You don't need to add any extra ingredients. Here's a handy tip: Use a contact lens case to store your coconut oil lip balm. Keep it in your bag so you can easily apply it throughout the day with your finger.
Under eye cream:
The skin under your eyes is delicate and sensitive, making it more prone to fine lines, puffiness, and dark circles. You don't need expensive creams because coconut oil works wonders too! Rub a small amount between your fingers to make it easier to apply under your eyes.
Highlighter:
Achieving a radiant and fresh complexion isn't always easy, but coconut oil can certainly give you that glow. Dab a bit of coconut oil on your cheekbones, cupid's bow, and just above your eyebrows for a hydrated skin look.
Makeup remover:
With just a teaspoon, you can easily remove makeup. Massage a dollop of warm, liquid coconut oil directly onto your skin and watch the makeup melt away. Then rinse with warm water.
Body scrub:
Mix half a cup of sea salt or sugar with an equal amount of melted coconut oil and rub it onto rough patches of skin using your hands. The scrub will hydrate and exfoliate, leaving you with baby-soft skin.
Shaving cream:
Out of shaving foam? Coconut oil to the rescue! Simply warm the jar under hot water and glide it smoothly over your legs. Your razor will glide effortlessly, and the oil will hydrate your skin at the same time.