Rewards system (coming soon)
A healthy lifestyle needs to get rewarded! Therefore you are now able to earn Fit at Home points which you can exchange for various gifts. You can create your own weekly goal in my account. Whenever you achieve your goal, you'll get rewarded with 1 Fit at Home point. Each week you can earn 1 point.
You'll find an overview of all the points you've earned in my account. Also, you'll see how far you are in achieving your goal that week.
History
Check out 'History' to see when you've earned your Fit at Home points, when you've redeemed them and how many points remained after that.
My rewards
In 'Rewards' you see an overview of all the rewards you've claimed, specified with the date, how many points it has cost and your unique vouchercode with which you can order your reward in the Fit Shop.
Available rewards
Check out 'Available rewards' for all the available rewards. In this section you can redeem the reward of choice. When you have enough points to redeem a reward you'll see that "not enough points" changes to "claim this reward". See the pictures below. You do not have to redeem a reward right away. You can also collect more points for a bigger reward.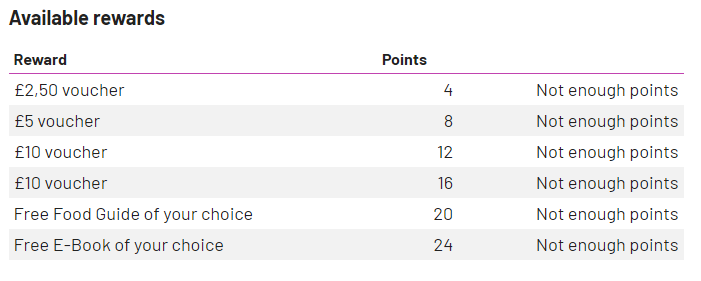 If you gave enough points to redeem a reward simply click redeem this reward. You'll be asked to confirm this action. Click ok. After confirming, you'll find your unique vouchercode in My rewards. Copy the vouchercode to use in the Fit Shop to order your reward.